Tired of high gas prices?
I know I am!
Gas prices is such a global thing and there are so many people complaining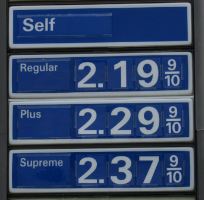 about the prices of gas, that changing things has to be a GLOBAL effort.
With so many people complaining, it is hindering any of my personal efforts to create lower gas prices using the law-of-attraction!
Therefore, I'm hoping YOU will take 68 seconds of your time to look at the photo of a sign with low gas prices and feel what that would feel like… for 68 seconds (it's an Abraham-Hicks thing). If you really feel it, you won't have negative emotions about the price of gas, which is important. Even if just for a moment, try to be free of your bad feelings about the high price of gas these days.
Then ask "If we were to experience affordable gas prices, how would that happen?"
In my on-line law-of-attraction course, I teach all kinds of techniques for using the law-of-attraction to get us what we wish for. This is an example of how to shift things and I hope you'll use it to help shift this global problem.
And then please share this page so that others can do the same!
Love & Light,
Sundi Bright
Life Coach & Alternative Healing Practitioner