My Talking Dog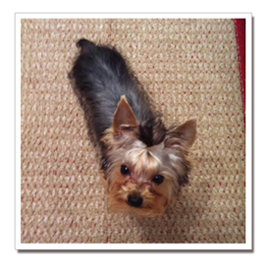 Meet Gucci. She's my little healing/coaching helper. She's my talking dog that doesn't just talk to me, but talks to the clients I have in my home as well. She's even been to Matrix Energetics with me! I do most of my coaching over the phone at a distance, but when I do have clients at my home office, she makes it quite an experience for them by being the dog that talks to them. In my business, I help people get what they want. I teach a formula that makes it fun and easy to manifest everything you want in your life. You soon become very conscious of how you create everything that happens around you and how to direct all outcomes as you wish them to be.
This little talking dog is a very good example of how I use the formula. I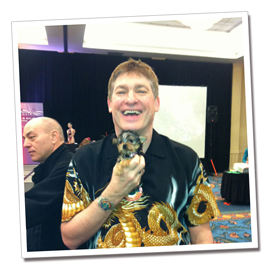 wanted a small yorkie, under 4 lbs, with a light colored face that was healthy, full of personality and would make others happy. She's been well socialized since she was 8 weeks old and loves people, dogs and kids. Her favorite human friends are Rory, Kiara, Tony, Deanna, and Mia. Her favorite doggie friends are Tico, Simon, Albert & Pancho. Her favorite clients are Craig, Gloria and Howard. I wish I had a video of Gucci explaining to Howard how she thought she should be sitting in his lap during his session! It was very cute. She'll soon have her own facebook page if you'd like to be her friend too!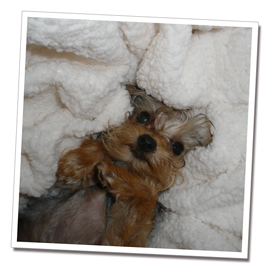 I picked her up when she was almost 6 weeks old and when they're that young, they're mostly all black, and about a pound and half so you don't really know what you're going to end up with. Sometimes a dog will grow more than others, even if their parents are small. And her parents looked so different, that that wasn't a good indicator of what a dog will look like. But, as I do with everything in my life, I used the formula to create the type of dog I wanted, and here she is, as perfect as can be… for me, at least! My little talking dog sleeps in my lap as I sit the couch writing this and life couldn't be better. After my boyfriend passed away 3 months ago, she's been my own little healer.
My goal is to help others feel this way as well… that life couldn't be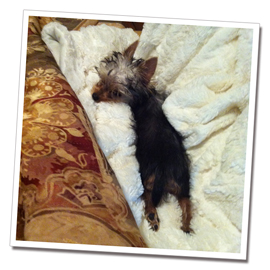 better. Whether you want a talking dog, a bigger house, more money, a loving relationship, or better health, The Secret Formula can help you get there. The Secret Formula is laid out in The Bright Future Workbook in a way that makes applying it fun!
I hope that my little talking dog has brought a smile to your face. Part of The Secret Formula is about raising your vibrations and if this video does that for you, then you've got the hardest part of the formula down pat! If you're interested in learning the rest of the formula and creating everything you want in life, download The Bright Future Workbook today!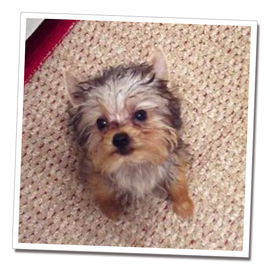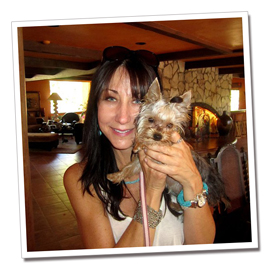 Helping to facilitate transformation by accessing the state of possibilities.

Certified Matrix Energetics Practitioner
Reconnective Healing & The Reconnection
EFT Cert-I Practitioner